Curtis CA15 - 15hp Two Stage Reciprocating Air Compressor, 120 Gallon Horizontal Air Receiver, E15 Pump, 42.6 CFM @ 175 PSI
$6,541.00
Was $8,607.00
Save $2,066
Sku: FCA15E15H1S-A9L1XX
Lead Time:
Generally ships in 2 to 10 days
Free Shipping
On All Orders Over $149.00
Satisfaction Guaranteed
Easy Exchanges & Returns
Secure checkout
Protected By SSL
Overview
Description
CA SERIES FEATURES AT A GLANCE
THE MOST DURABLE PUMP CONSTRUCTION AVAILABLE
Meticulous material selection ensures long-term reliability.
100% cast-iron cylinders and cylinder heads
Long-lasting, corrosion-resistant crankshaft
Reduces thermal stress for increased reliability
Deep-finned cast-iron cylinders and cylinder head for cool operation
Slow-turning pump increases pump life
INDUSTRIAL DESIGN
The most robust two-stage reciprocating air compressor in its class.
Provides higher pressures, better efficiency and longer life
Ready to handle rugged, heavy-duty applications
QUALITY COMPONENTS
For extended product life and continuous performance.
Industrial-grade main roller bearings are precision fit for support of all rotating parts
High-flow, heavy-duty stainless-steel valve system delivers more cfm per horsepower
Robust intercooler increases compressor efficiency
Metal intake filter/silencer is superior to plastic
Heavy-duty stamped-steel belt guard
Suction valve head unloaders for continuous running air compressors
SIMPLEX
Simplex two-stage reciprocating air compressors are well suited for common applications where only one compressor is needed.
Magnetic motor starter
Manual tank drain
Oil sight glass
Horizontal or vertical tank configurations available
Factory oil filled
STANDARD FEATURES
Splash lubricated
ASME air receiver (vertical or horizontal)
UL approved pressure switch
OSHA approved totally enclosed belt guard
ASME approved safety relief valve
ASME approved discharge air service valve
Slow V-belt drive
Factory filled lubricant
Magnetic motor starter (60Hz)
Automatic Start-Stop control
Premium Efficiency Motors (3-phase only)
Large metal intake filter-silencers
Tank shut off valve
Manual condensate tank drain valve
Dial read-out pressure gauge indicator
Oil level sight indicator
Tech Data
Warranty
Dimensions
Instruction Manual
Brochure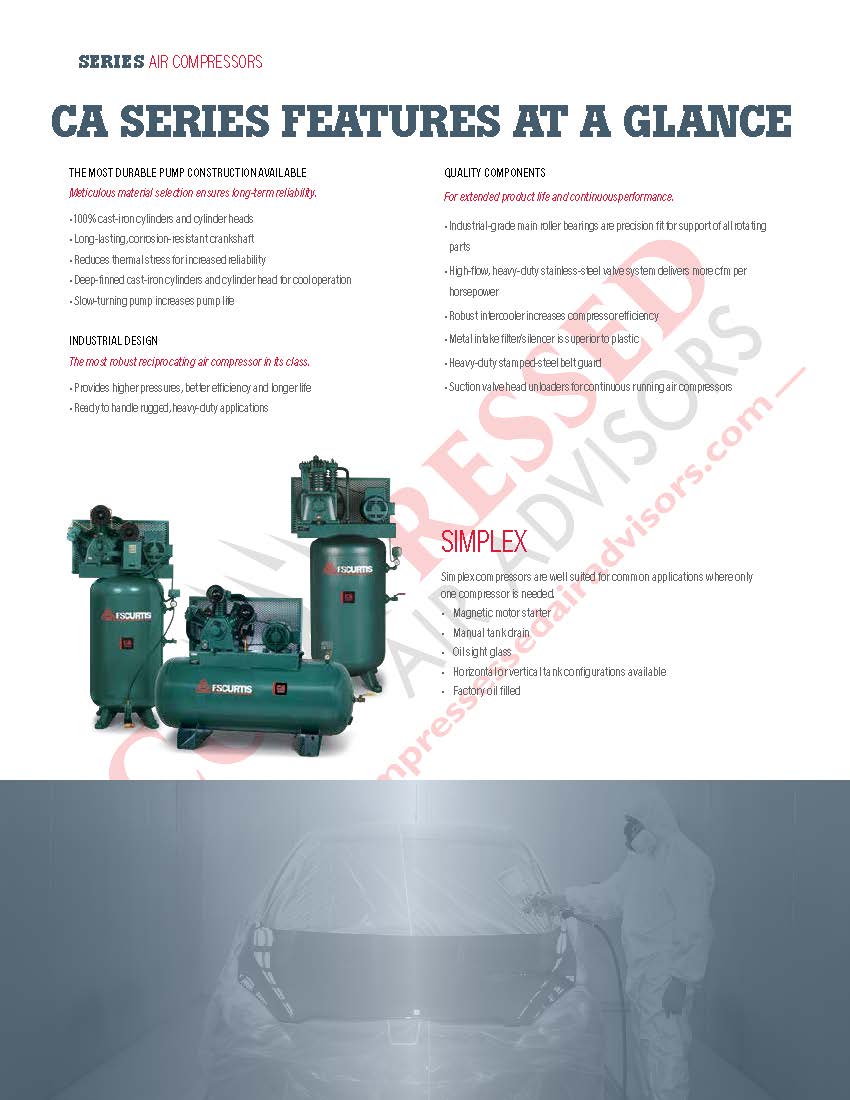 Video
Reviews